The Bookstore
Journal of a New England Poet
by L.M. Browning
ISBN 978-1-938846-01-4 | 6 x 9 | 126 Pgs | (Signed edition)
List Price: $14.95 pbk
Fleeting moments of fierce clarity are had when the confusion clears and the gray numbness that hangs about our senses draws back allowing us to see the world and ourselves with sharp relief.
Follow author and New England native L.M. Browning in her wanderings across the Northeast, from the solitude of her home along the shore of Connecticut, to the rushing city streets of Boston, to the tall-pine landscape of Arcadia Park in Rhode Island to the quiet edges of Walden Pond.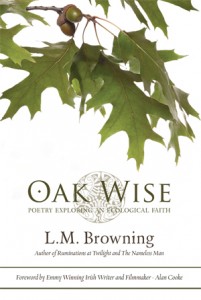 by L.M. Browning
Foreword by Emmy Winning Irish Filmmaker Alan Cooke
[Revised & Updated Edition Including Previously Unpublished Poems]
ISBN 978-1-938846-05-2 | 6 x 9 | 230 Pgs | (Signed edition)
List Price: $14.95 pbk

Oak Wise is a collection of Celtic-themed narrative poetry exploring the old wisdom of the Druidic and Shamanic ways of life. This collection is approachable to the curious seeker just beginning their exploration of the Old Ways; while at the same time remains insightful to long-time pathwalkers. As a preface to her work, Browning offers her readers an introduction to the central beliefs of Shamanism, then proceeds to her poetry, where she descends with the reader into an intimate account of one seeker reflecting on the "Biological Mother" [the earth] while communing with the ancestral consciousness to which we each are connected. Browning brilliantly reintroduces the ecological sensitivities of the old Earth-based faiths, which are profoundly relevant in this current age of environmental crisis.
Ruminations at Twilight
by: L.M. Browning
[Revised & Updated - Second edition featuring a new foreword and new/updated poems.]
Foreword by: J.K. McDowell, author of Night, Mystery & Light
ISBN 978-1-938846-04-5 | 6 x 9 | 150 Pgs | (Signed edition)
List Price: $14.95 pbk
Asserting that the sacred lives in what is ordinary and the Divine is found amongst the green of nature, the poems within Ruminations at Twilight bring a message of appreciation for the worth of what surrounds us. Relevant, insightful, candid and revealing, these verses give a unique perspective on the age-old questions. The story told takes place on an intimate scale yet at the same time a world-wide scale; for within this story of one individual's realization and redemption we are told that of all humanity's.